Mindfulness can be described in a variety of ways.  From mediation to yoga to, at it's simplest form, a colouring activity, but the basic concept is to become aware and take notice of yourself and your surroundings.
Mindfulness is simply… noticing what is happening right now.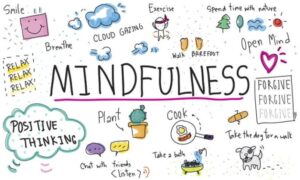 Mindfulness is taking notice of how your body feels and what you see, smell and taste.  Mindfulness is also noticing what your mind is doing.
When you notice what is happening around you, it can help you to calm down when you're sad, angry or frustrated. Mindfulness helps you deal with tough emotions, and mindfulness can make you happy and feel good.
How can mindfulness help children in their everyday lives?
Life in general nowadays is very busy both for adults and children,with all the extracurricular activities and family life in general, children are becoming more stressed.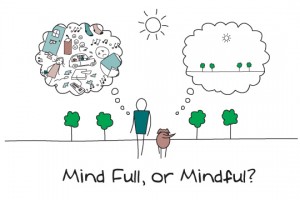 So mindfulness can prove to be a more gentle, less stressful activity that is free, can apply to all ages and can be a family bonding experience to share.
It can help children have a positive experience every day, and can help children learn to relax and regulate their emotions.
It is a life skill that if learned early on in life, like reading, can last for a lifetime.
How do you learn how to practice mindfulness?
As a childcare practitioner mindfulness is a very important part of our weekly curriculum at Tigers.
It gives the children we care for time to relax and wind down after what is generally a very busy day coming from school to after-school.
It gives children time to reflect on their day and the experiences they have had that day.
It takes little resources – just some relaxing music, a comfortable place to sit or lie down and can be done in a variety of ways depending on the child.
Some of our children like to lie down, some like to read a book quietly or some may even do some art all the while relaxing and listening to music.
It is a time for reflection and relaxation and just taking a step away from the world around us for a short period of time.
Teaching the children to regulate their breathing is another life skill that can have lasting benefits into adulthood.
In general, families can also benefit greatly from mindfulness as a bonding experience, a free activity and a way to spend precious time with your loved ones.
In the summer months it can be a very nice outdoor activity to have with your children and a way to connect with the outdoors.
~ Author:  Lynda Walsh, After-School Manager – Tigers Childcare, Glasnevin ~